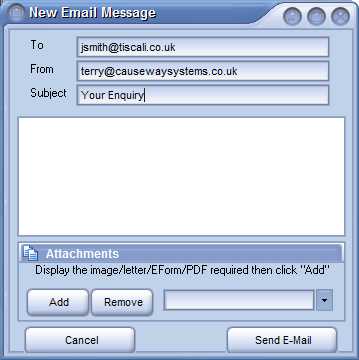 Email
Increasingly email is the preferred method of corresponding internally, with customers and with other organisations. This brings with it the requirement to store emails so that they can be retrieved easily when required.
Providing an integrated Email solution is a key part of our CRM, Document Management and Self Serve products where Emails can be stored and retrieved like any other document.
Incoming emails can be routed directly into the DMS system.
Emails can be composed and sent from DMS through our Email Server. On completion of an EForm in CRM or DMS selected items can be automatically included in an email and sent to a third party. In 'Self Serve' an email can be sent automatically to confirm receipt of an enquiry.
In addition emails can be forwarded from Microsoft Outlook. Forwarded items will be routed to the user's own InTray.